EverChain Sponsors 8th Consecutive RMAI Event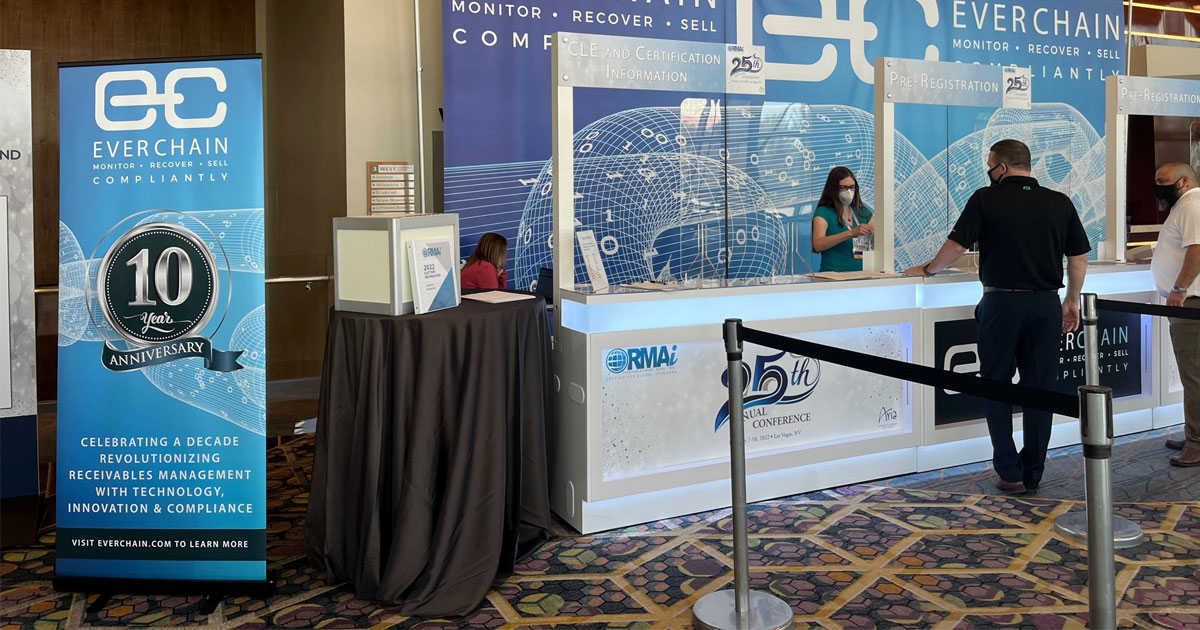 The EverChain team, including Chief Barketing Officer, Lucky, welcome RMAI's 2022 Annual Conference attendees to our home town of Las Vegas. We encourage you to stop by Booth #219 to meet the team, learn more about our city, and, of course, put the puppy!
According to a recent press release by RMAI, "behind every successful event are committed supporters who make things happen. EverChain is a long-term supporter of the Receivables Management Association International (RMAI) Annual Conference. They have committed again to sponsoring the 2022 RMAI Annual Conference with a Gold Sponsorship, their eighth consecutive year of sponsorship."
The 2022 Annual Conference will offer in-person networking and education at the Aria Resort Hotel in Las Vegas. The conference brings together key participants in the receivables management industry, including debt buying companies, collection agencies, collection law firms, brokers, originating creditors, and vendors.
"We are pleased to acknowledge EverChain and its CEO and founder, Matthew Wratten, for their gold sponsorship of our 25th anniversary RMAI Annual Conference," stated RMAI Executive Director, Jan Stieger. "RMAI appreciates EverChain's dedicated ongoing support of our conference over a succession of years."
Matthew Wratten, EverChain's CEO and founder stated, "EverChain is once again proud to be a major sponsor of the RMAI Annual Conference. We fully support RMAI's mission to bring best practices and continuing education opportunities to the receivables management space."
EverChain, under their previous name of DebtTrader, was the first business to become a certified broker through RMAI's Receivables Management Certification Program. The Certification Program offers professional designations to businesses and individuals operating and employed within the receivables industry.
About RMAI
Receivables Management Association International (RMAI) is a nonprofit trade association representing more than 580 companies that purchase or support the purchase of performing and nonperforming receivables on the secondary market. The RMAI Receivables Management Certification Program and Code of Ethics set the global standard within the receivables industry due to the rigorous uniform standards of best practice which focus on protecting consumers. More information about RMAI is available at www.rmaintl.org.
RMAI's 2022 Annual Conference is the 25th anniversary of the conference and brings together stakeholders in the receivables management industry—welcoming attendees and exhibitors, presenting highly-respected educational programming, and numerous networking opportunities with key participants, including debt buying companies, collection law firms, collection agencies, brokers, vendors, major creditors, and international members.
Related Posts